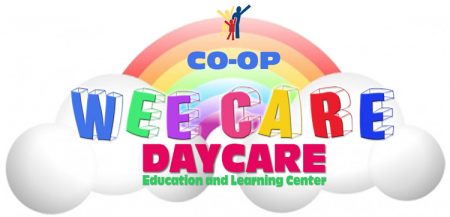 Monday – Friday
7am – 5:30pm
Here at COOP WEE CARE DAYCARE EDUCATION AND LEARNING Center we provide care for ages 4 months to 5 years. We have 6 classrooms ranging from 4 months to 2 years of age in our upper level and 2 years to 5 years in our lower level.
PROGRAM AND PRICE LIST 2019
Infant Program
7:00 AM – 5:30 PM        40.00 PER DAY/ 38.00 FOR Co-op Members
Toddler To Preschool Programs
7:00 AM – 5:30 PM        38.00 PER DAY/ 36.10 FOR Co-op Members
Part Time (2 years and older)
40.00 PER DAY/ 38.00 FOR Co-op Members
Please note ALL meals and whole milk are included
Our Philosophy
We at CO-OP WEE CARE DAYCARE EDUCATION AND LEARNING CENTER are committed to ensuring the highest standards in child care and believe that by providing the necessary tools, each child will develop the confident needed to reach their full potential.
In order to achieve this goal we strive to maintain a warm safe, nurturing setting that each child may freely explore and discover. This environment will enrich the strengths and needs of each individual child and will lend the opportunity for problem solving and decision-making.
Through developmentally appropriate curriculum, we continually work to enhance the cognitive, social, physical and language development of each child. We develop programming that supports creativity, independence and self-esteem and that by being positive role models, each child will be encouraged to develop self-respect, self-discipline and respect for others.
Our philosophy on early childhood education will be implemented through strong dedication and avocation to our field and to all the children who touch our lives.